Posted this on my website...Read More below or
call us toll free on 800-478-2029
Catamaran Wonderful
A Caribbean Catamaran Charter That's 'Wonderful'
What a grand name for a "best in show" winning British Virgin Islands catamaran rental beauty.
Specifically designed for the charter industry and aimed at the more affluent clientele, the 73' long catamaran Wonderful lives up to her name fulfilling every client's desire for a wonderful and memorable yacht charter vacation.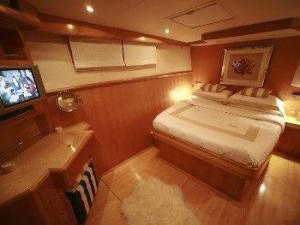 Offering nearly 2,800 square feet of fine living spaces, she was conceived to provide over-the-top comfort and amenities to every guest. The cabins are not just rooms, they are magnificent, inviting and a haven to retire to in the evenings after a day of sun and fun.
All are en-suite, that's nautical industry speak for having a private commode, bath, vanity and shower in the cabin, and have queen sized beds. Optionally, there is one cabin able to convert to two single beds for extra guests.
Catamaran Wonderful
sailing yacht
has unmatched standards and her unusual features set her apart from the smaller boats chartering in the Caribbean.